Pediatric Sports Medicine
Caring for youth and adolescent athletes requires a specialized approach that takes their growing bodies into consideration.
At UOA, our team of certified sports medicine specialists understands how to treat acute and complex pediatric sports medicine conditions and injuries. When creating a treatment plan, our physicians keep your child's health, safety and long-term athletic goals in mind.
The Continuum of Care
Our team of physicians and trainers are experts at supporting athletes through all stages of athletic training, not just when an injury occurs. We have created a comprehensive sports medicine department that takes athletes through a continuum of care, which includes: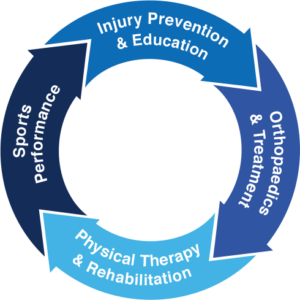 Each physician at UOA is trained in a subspecialty including sports medicine, hand and upper extremity, foot and ankle, and spine. Our physicians and clinicians work together to create a customized treatment plan to get your child back to activities as quickly and safely as possible.
A Lifetime of Care
At UOA, we understand that for serious athletes, playing a sport is not just a game, it's a way of life. For over 40 years, we have been caring for athletes participating in youth, high school, collegiate, professional, and Olympic level sports. Many great athletes begin their careers as youth players, and we have made it our job to help them maximize their potential by keeping them strong, healthy and in the game.
Common conditions and injuries treated at UOA include: