What Does a Physiatrist Do?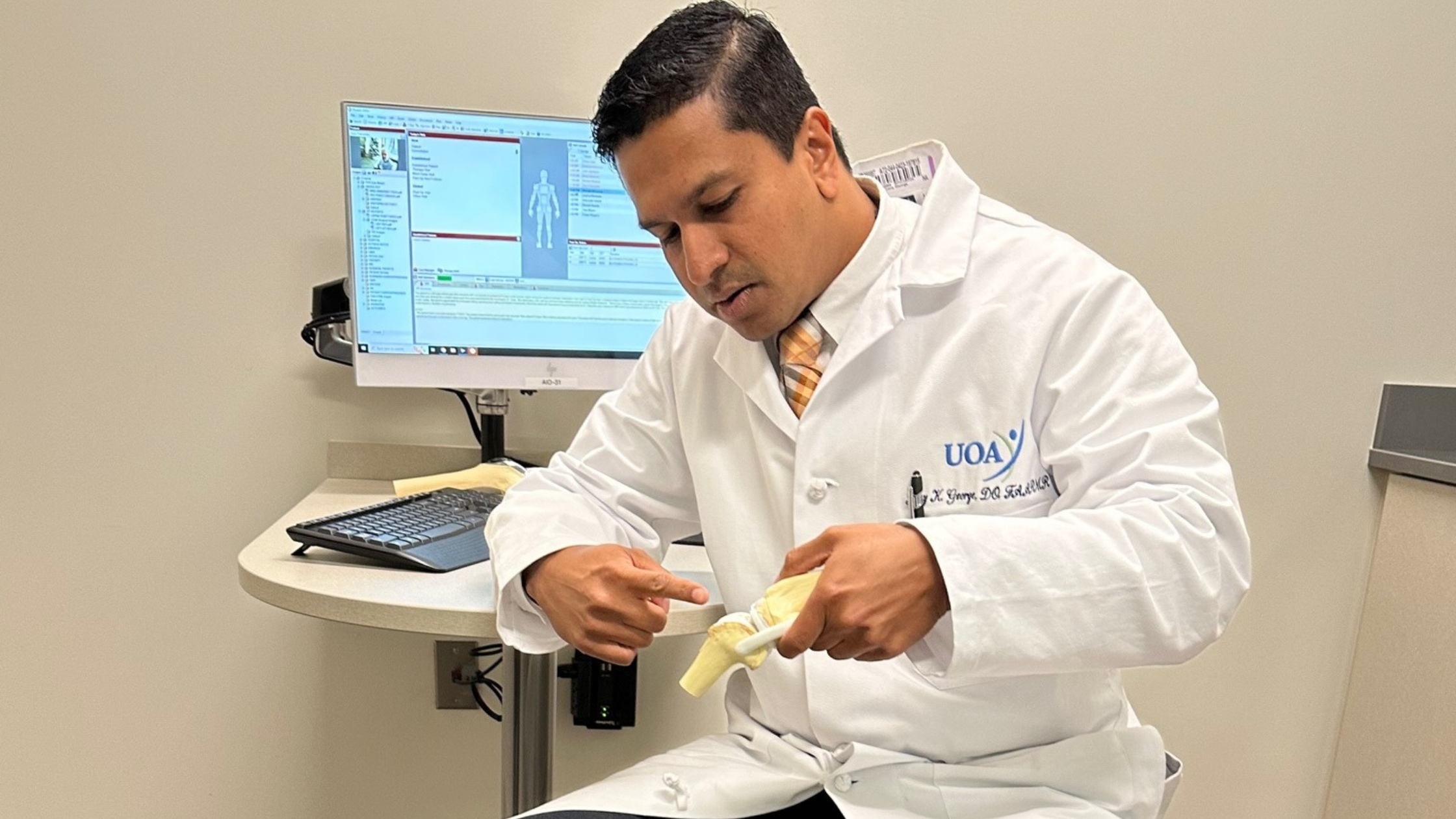 If you've ever been recommended to see a physiatrist as a part of your treatment for a musculoskeletal condition, you may have questions about the field of Physiatry and what a physiatrist does. Here's what you need to know about Physiatry and how the Physiatry specialists at UOA can help.
What Is a Physiatrist?
A physiatrist is a medical doctor specializing in Physical Medicine and Rehabilitation (PM&R). They have extensive training in the diagnosis and non-operative treatment of musculoskeletal and nervous systems. Physiatrists have an in-depth knowledge of how the bones, joints, tendons, ligaments, nerves, muscles, spinal cord and brain work together and can practically apply this to improve their patient's daily function.
What Is Physiatry?
Physiatry is a specialized field of medicine that focuses on optimizing patients' day-to-day function. It focuses on the prevention, diagnosis and non-operative treatment of musculoskeletal, neurologic and cardiovascular disease. A physiatrist can diagnose these conditions using a patient's history, examination, imaging, musculoskeletal ultrasound and nerve conduction/electromyography (EMG). By getting to the root of what's causing the pain, physiatrists can develop effective and specific treatment plans.
What Conditions Does a Physiatrist Treat?
A physiatrist can treat a number of conditions related to the musculoskeletal and nervous systems throughout the entire body. These include back pain, neck pain, pain from strokes and brain injuries, spinal cord injuries, sports injuries, arthritis and neuromuscular disorders. There may be an overlap between conditions typically managed by an interventional physiatrist and an orthopaedist or pain management doctor. These specialists often work together to offer their patients a complete and multidisciplinary approach to the treatment of these painful conditions.
How Do Physiatrists Treat Painful Conditions?
A physiatrist is often focused on helping patients manage conditions non-surgically. Physiatrists have many effective minimally invasive tools at their disposal to help guide treatment, including local steroid injections into the joints and spine, spinal cord stimulation, stem cell injections, platelet-rich plasma therapy, dry needling, nerve blocks, therapeutic exercise and pain medications. Interventional physiatrists differ from anesthesia pain management doctors because they have extensive training in the diagnosis and treatment of musculoskeletal and neurologic conditions in addition to the typical interventional skills.
Why Choose a Physiatrist at University Orthopaedic Associates?
The physiatrists at UOA are uniquely positioned with a team of fellowship-trained surgeons. Together, they work closely using a multidisciplinary approach to diagnose and develop the optimal plan for their patients. The team recognizes that no two patients are alike; this demands a unique approach to their patient's care plan to optimize the path to the best outcomes. This can include operative and non-operative treatment methods.
How to Pursue Care by a Phystriatist
If you believe you or a loved one has a musculoskeletal problem, contact University Orthopaedic Associates to request an appointment with a UOA physiatrist today.