Opioid Use and Misuse Educational Fact Sheet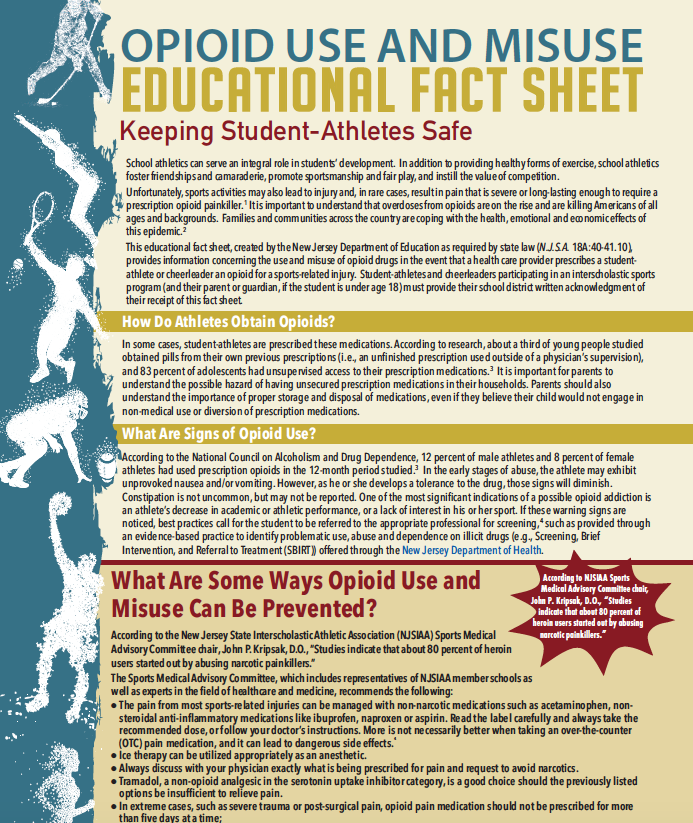 School athletics can serve an integral role in students' development. In addition to providing healthy forms of exercise, school athletics foster friendships and camaraderie, promote sportsmanship and fair play, and instill the value of competition.
Unfortunately, sports activities may also lead to injury, and in rare cases, result in pain that is severe or long-lasting enough to require a prescription opioid painkiller. It is important to understand that overdoses from opioids are on the rise and are killing Americans of all ages and backgrounds. Families and communities across the country are coping with the health, emption and economic effects of this epidemic.
This educational fact sheet, created by the New Jersey Department of Education as required by state law (N.J.S.A. 18A:40-41.10), provides information concerning the use and misuse of opioid drugs in the event that a health care provider prescribes a student-athlete or cheerlead an opioid for sports-related injury. Student-athletes and cheerleaders participating in an interscholastic sports program (and their parent or guardian, if the student is under 18) must provide their school district written acknowledgement of their receipt of this fact sheet.