Young Athlete Gets Opioid-Free ACL Reconstruction at UOA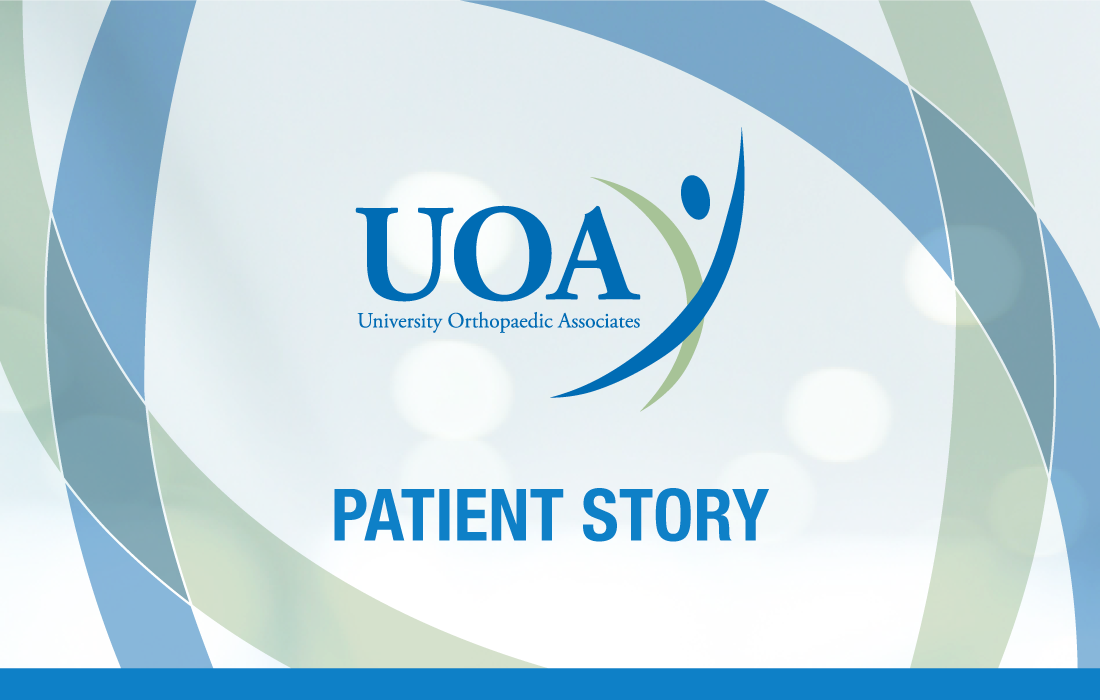 When the state finals were over, Bridgewater Raritan High School senior Allison Lynch knew her high school soccer career was over, too. But she wasn't dwelling on that. Allison, who was sidelined by a knee injury earlier in the game, was worried she wouldn't be able to play at Rutgers in the fall as planned.
"I was going into a tackle, my leg got twisted, a girl fell on it and my knee just popped," said Allison, 17. She headed for the bench, tried to walk it off and re-entered the game a few minutes later. She took one step sideways and her leg collapsed. That was it.
"My trainer said it wasn't looking good, but I was stubborn," said Allison. "I kind of knew in my head that something was wrong, but once I fell I knew for sure."
The Diagnosis: ACL Tear
Allison and her mother, Jennifer, went to a walk-in clinic for an MRI, which confirmed what the Lynch family and the BRHS athletic staff feared: a complete ACL tear. Thinking quickly, Jennifer and Allison called the Rutgers coaching staff, who recommended they see Dr. Charles Gatt at University Orthopaedic Associates.
Once they arrived at UOA, Jennifer and Allison knew they'd made the right decision by choosing Dr. Gatt. "He was super nice and he made me feel a lot better," said Allison. "He told me a lot about the knee's structure and the injury. It seemed like he had a lot of experience. He was honest but still made me very comfortable."
"Dr. Gatt was very thorough," added Jennifer.
Allison's MRI showed a complete tear through the ACL, so surgery was the only option. It was scheduled for December 6—not quite three weeks after the November 18 injury—to allow the swelling in the knee time to go down.
About the ACL
Anterior cruciate ligament (ACL) tears are some of the most common sports injuries. The ACL connects the femur (thigh bone) and the tibia (shin bone). Its job is to keep the tibia from sliding out in front of the femur and to provide side-to-side and rotational stability. Allison fell when she stepped to the side because her ACL was in two pieces and couldn't provide the necessary stability to the knee joint.
ACL Reconstruction: Bone-Patellar Tendon-Bone Graft
"Dr. Gatt knew right from the get-go that Allison would need surgery," said Jennifer. He decided the best way to help Allison would be to perform an ACL reconstruction using a technique known as bone-patellar tendon-bone graft. This procedure used tissue from Allison's own body—called an autograft—in this case the patellar tendon (actually a ligament), which normally connects the kneecap (patella) to the tibia.
Dr. Gatt first removed Allison's damaged ACL. Then he drilled small holes in both Allison's femur and her tibia. He removed part of the patellar tendon and threaded it through the holes to connect the two bones. In this patellar tendon autograft procedure, the tendon acts as a scaffold for new tissue to grow and reinforce the bond between the femur and the tibia.
Recovery and Rutgers
Allison will attend Rutgers University in the fall, where she plans to play soccer and study exercise science and special education. "Right when my injury happened, I was thinking of my college career and recovery," she said. "Will I be ready and strong enough for pre-season?"
It's looking likely that she'll be ready. "They say recovery can take six to 12 months," said Allison. "I'm really shooting for six months. That would take me right to preseason."
Allison needed no painkillers stronger than Tylenol after her surgery. "It was more discomfort than pain," she said. "The worst pain was 24 hours after the surgery, and even that wasn't so bad."
Dr. Gatt prescribed the ON-Q Pain Relief System to Allison, which he believes helped enable her to have a painkiller-free recovery. The ON-Q is a pump that gradually delivers a local anesthetic for three days after surgery, which will keep the worst of the pain away as healing begins. "It is used for knee and shoulder surgeries and has proven to be very effective," said Dr. Gatt.
Allison said she kept as active as she could in order to distract herself, and that having her mother and father close by was a big help.
"I had good company," said Allison. "I iced my knee a lot. Every time I would get uncomfortable I would crutch around the house, then sit down and ice again. It helped."
Allison and Jennifer credit the ease of Allison's recovery so far to the team at UOA. She said the physical therapy team and Dr. Gatt have been in constant contact both with her family and with each other.
"It's all connected at UOA," she said. "I'd be in PT and Dr. Gatt would swing by to make sure everything was going well. It's been really great and I highly recommend rehab at UOA."
Jennifer agrees. "Dr. Gatt has been very accessible and responsive," she said. "We got a little nervous about Allison's incision at one point, but Dr. Gatt called and let us know everything was fine."
"They're so great at UOA," Allison said. "The PT team sets goals for you week by week. About two weeks after surgery I had full range of motion. I was able to bike a week after surgery. Six weeks in, I see a big difference already."
If you've sustained a sports injury, request an appointment with the sports medicine specialists at UOA. We'll diagnose your injury and create a treatment plan that works for you and your lifestyle, from conservative therapy or surgery to recovery and beyond.