Making a Comeback to the Game He Loves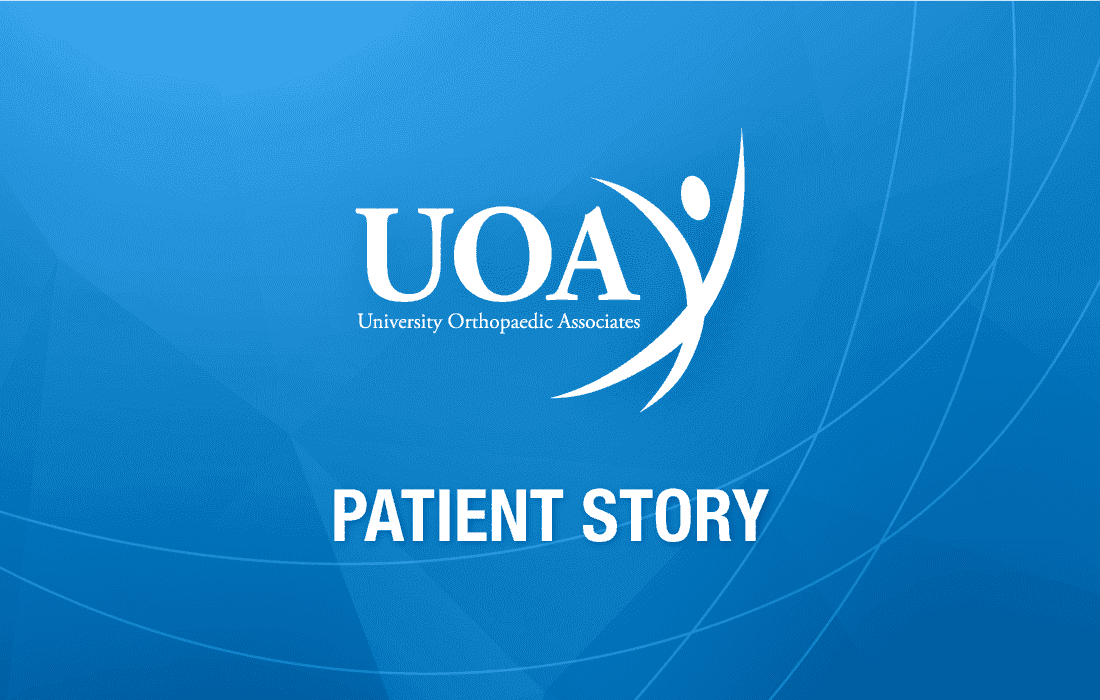 David Loccisano is no stranger to sports injuries. Between his two primary sports—hockey and baseball—he has suffered problems with his spine, UCL (elbow ligament) and ultimately hip and groin. It was that final injury, which he incurred playing hockey, that led him to Dr. Patrick S. Buckley at University Orthopaedic Associates (UOA).
Loccisano, a 21-year-old Tinton Falls, New Jersey resident, Brookdale Community College student and part-time security guard, has a lifelong history in sports. He has been playing ice hockey, his passion, since he was five years old.
His latest troubles began in 2016. As he explains it, "I was playing goalie, and I'd get pain I thought was a groin injury. It got better, but then the pain went to the hip and butt. That pain was sharp and lingering."
Loccisano stopped hockey and felt better. However, in October 2018, he was playing roller hockey when he slipped on some spilled water and took a hard fall.
"After I fell, the pain was ten times worse. I could barely lift my leg, and it really hurt bad. I knew something was really wrong with my hip," he says.
Initially, an orthopaedist told him it was a sprain, and to return in six weeks if he didn't feel better. It was at that next appointment that a magnetic resonance imaging (MRI) scan with contrast revealed a hip labral tear and a problem with the shape of Loccisano's femur, which showed a femoral acetabular impingement (FAI).
This condition occurs when the ball part of the femur (the thigh bone) does not perfectly fit into the hip socket. As is commonly the case, his MRI showed his hip bone was curved out instead of in, causing wear and tear and pinching on the labrum (the pad of cartilage in the hip socket that helps keep the femur in place), eventually tearing it. This orthopaedist told Loccisano he could not perform the necessary surgery, and recommended he see Dr. Buckley at UOA.
Dr. Buckley, whose sports medicine experience with professional athletes includes treating players from the National Hockey League (NHL), is an expert in surgery to correct femoral acetabular impingement (FAI). This is a minimally invasive arthroscopic surgery that allows viewing the structures of the hip with a camera (arthroscope) inserted through small incisions. With this procedure, Dr. Buckley could both reshape an ill-fitting bone and repair the labral tear.
Loccisano first saw Dr. Buckley in November 2018. Dr. Buckley reviewed the hockey player's MRI and carefully discussed with Loccisano his options. Dr. Buckley explained to him that his injury is very common in hockey because skating requires high hip flexion and internal rotation movements at the hip.
This is particularly the case with goaltenders such as Loccisano, whose position includes movements such as the butterfly technique (named since the player looks like a butterfly in this position), which entails dropping to the knees in a quick motion, with the hips in rotation, in order to effectively block shots. Since its widespread use in the late 1980s, this move has ravaged the hips of more than a few hockey goalies.
Preparing for Surgery
Loccisano says he immediately trusted Dr. Buckley and agreed with his recommendation, opting for surgery. He also appreciated the doctor's demeanor.
"He wasn't just a typical doctor who sits at a computer and talks to you while he types," says Loccisano. "He asked me questions about my life and school; he was more personal than most doctors. He also talked about the surgery and getting back to playing. He was confident that once I fully recovered, there would be a big difference."
That was important to Loccisano, since he was in both physical and emotional pain. Being hurt "was depressing," he says, "because I wanted to be out there playing, but I couldn't." In addition, his pain carried over to the rest of his life. It hurt him even to sit or stand. And as a security guard working at the beach, walking was very painful as well.
So, he focused on his schoolwork since the criminal justice major will be graduating in fall 2019, and also did six weeks of prehabilitation at UOA that Dr. Buckley recommended in order to prepare him for the surgery. He ended up undergoing surgery at the end of March 2019.
Loccisano spent about two to three hours undergoing this minimally invasive outpatient procedure. This was followed by being on crutches for about a month. By five weeks post-surgery, he was walking. His main physical activity was a stationary bike, as Dr. Buckley strongly recommended he keep the area operated on loose and moving.
A Successful Recovery
After eight weeks of post-op physical therapy at UOA, Loccisano continues with his exercises at home, and is going into UOA for another round of the physical therapy to build even greater strength and flexibility. He started back playing roller hockey by mid-July and graduated to ice skating (without hockey) about two weeks later.
"I felt good, and recovery was quicker than I thought," says Loccisano, whose aim is to be back and playing goalie in one hundred percent health. Dr. Buckley gave him the okay to play as he feels ready, "but obviously not to do a split," he adds, referring to the butterfly position. He says he will probably be ready to play ice hockey by October 2019.
Loccisano went for his most recent post-op check-up at the beginning of August, during which Dr. Buckley tested him and told him he was recovering quicker than most people. Of Dr. Buckley Loccisano concludes, "He is great. Really confident. He gave me treatment options and told me what he recommended. It's nice to hear that instead of leaving the decision entirely up to me. Physical therapy was really good too; they helped me every step of the way."
As of August, Loccisano is back doing what he loves, playing roller hockey and getting back into playing ice hockey. "When I was able to play again it was like a big weight lifted off my chest," he said. "And when I scored the first goal of the season, I was so happy. So much pressure was lifted off. I'm back!"
Awaiting the Future
While Dr. Buckley had taken care of his right hip, Loccisano still has to deal with his left hip, which has the same bone deformity and causes him some pain. Dr. Buckley has left the timing for this second surgery up to Loccisano. His right hip has to fully heal, and he says he will probably get surgery on the left one after Christmas. According to Loccisano, the left side is not as bad as the right side was. "It can wait, but I won't be able to fully go back to playing ice hockey goalie until I get the left side done."
In the meantime, he longs for both physical comfort and quality of life, but equally for a return to his game. Every athlete, as well as Dr. Buckley, understands David Loccisano when he concludes, "Sports are my life. Hockey is my life."
If you have a hip impingement or are experiencing a hip labral tear or other sports injury, request an appointment at UOA. Our sports medicine experts will have you back to your sport as soon as possible.