UOA Physicians Named Top Doctors by Inside Jersey and New Jersey Monthly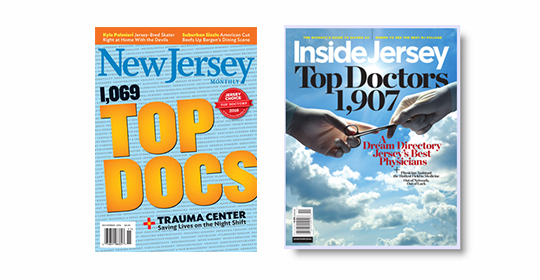 New Jersey Monthly magazine and Inside Jersey magazine have honored six University Orthopaedic Associates (UOA) physicians as Top Doctors for 2016.
The New Jersey Monthly honorees include Drs. Gino Chiappetta, Charles J. Gatt, Jr., David A. Harwood, Timothy P. Leddy and James T. Monica.
To compile the list, New Jersey Monthly commissioned an independent survey by Leflein Associates. They sent out a questionnaire to licensed doctors in New Jersey asking each to vote for physicians they would choose to treat either themselves or a family member. Leflein tallied the votes and provided the preliminary results to New Jersey Monthly. Thereafter, an advisory board of New Jersey doctors examined results and officially named this year's Top Doctors.
 Regarding Inside Jersey's 2016 Top Doctor recipients, they include Drs. James T. Monica and Mark S. Butler.
Inside Jersey's listing of Top Doctors is the largest of any New Jersey magazine. They partner with Castle Connolly Medical Ltd.—the gold standard for medical ratings research—who ask physicians to nominate their peers as Top Doctors.
For Inside Jersey's selection process, all board certified MDs and DOs are invited to nominate through Castle Connolly's online nomination process. Once a physician has been nominated, he/she is then evaluated by the Castle Connolly physician-led research team. This team considers the physician's medical education, training, hospital appointments, disciplinary history and more.
University Orthopaedic Associates congratulates all of its doctors who have received these important recognitions.