Dr. Gino Chiappetta Helps Woman in Long Climb Back to Full Health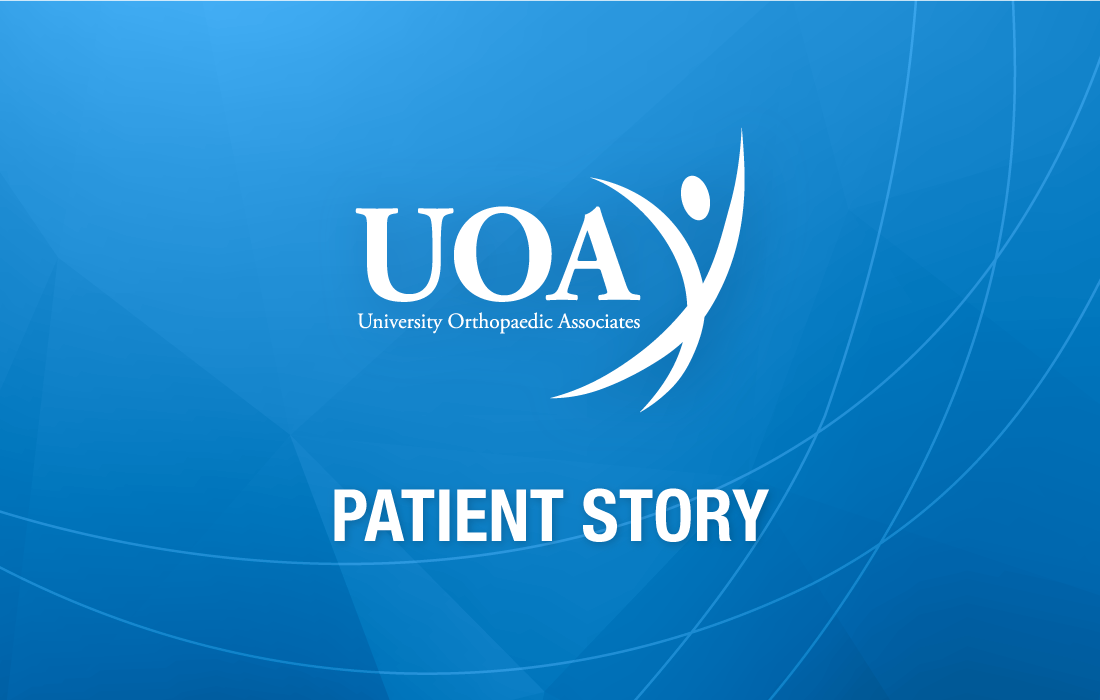 It has been three long years since Eileen Loftus shattered the C1 vertebrae in her neck. A rung on a ladder broke as she was in the process of climbing a fence while working on a project in Mansfield Township in conjunction with the recent widening of the New Jersey Turnpike between Exits 6 and 9.
"I'm now back at work full-time," Lotfus, 49, an environmental scientist said recently. "But I'm not climbing any fences."
Loftus can now laugh a little about her accident in January 2012, an incident that she called "an ordeal" and how she ended up, "by accident" being treated by "the best doctor I ever had": Dr. Gino Chiappetta, a spine surgeon at University Orthopaedic Associates (UOA).
After sustaining the painful injury, Loftus wound up at Robert Wood Johnson University Hospital in New Brunswick. After time in the emergency room, she was taken up to a room, uncertain of what was ahead. By chance, Dr. Chiappetta was on duty that day, she said, making his rounds seeing patients with injuries to the spine.
"It was pure luck," Loftus said. "My brother is an attorney and a retired state trooper, and he had a friend who he asked to find out a bit about this doctor. His friend called back and said 'he's great, you can't get any better.' It made me very confident about Dr. Chiappetta. His bedside manner was great, too."
Dr. Chiappetta took a non-surgical approach, placing Loftus in a halo, a piece of equipment that encircles and is fixed to the head, to immobilize the neck for the next two months. "The best thing is that he didn't need to do an operation to fuse my vertebrae," she said. "I now have full mobility in my neck, though I do get some stiffness sometimes." She added, "Considering that I broke my neck and I'm still alive, is just a miracle."
After being admitted to the hospital on a Thursday, Lotfus was on her way home by Sunday, where she began her slow, but steady recuperation with help from her husband and a visiting nurse.
With the halo removed after two months, Loftus was able to return to work after five and a half months, in June 2012. "I was totally fine," she said.
But several months later, she began to feel some discomfort in her back, so Loftus returned to see Dr. Chiappetta and was sent immediately for an MRI scan, which revealed a cyst. Dr. Chiapetta removed the cyst and Loftus was able to go home the same day she as her surgery.
Her long medical nightmare was not yet over. Months later, discomfort in her hip led to another MRI scan that revealed a spinal compression. Dr. Chiappetta operated once again, this time fusing the L4-5 vertebrae. "Afterward, I couldn't believe it," Loftus said. "I told people the pain was gone. It went away one afternoon and I was able to go back to work in January 2014. I was thinking that I was never going to make it back to work."
So, after a serious spinal injury, two surgeries and significant time away from her job, Loftus was back in the field. Recently, she was investigating a claim that some beavers, doing what beavers do, were causing flooding. She came up to a fence, considered her recent history, and found another, albeit, longer way around.
Turning reflective, Loftus said her situation was "an ordeal, a part of my life experience. I'm sorry it all had to happen, but it all fell into place for me. I can't say enough good about Dr. Chiappetta. He's the best doctor I ever had. I just think he's great."