UOA Surgeons Honored with Award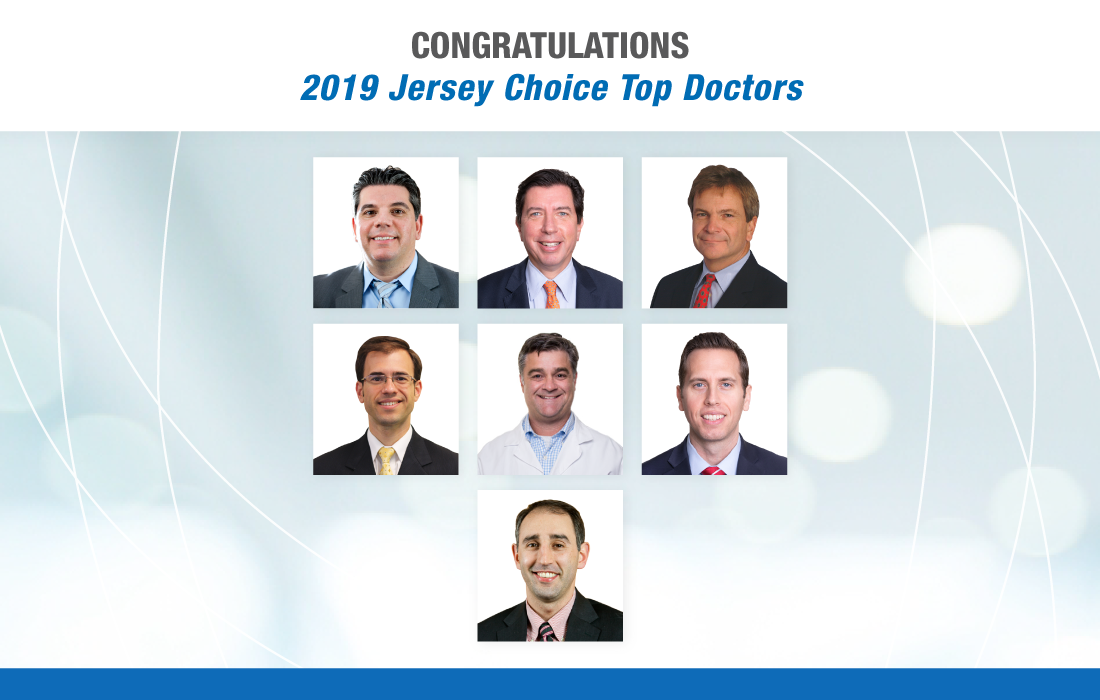 University Orthopaedic Associates is proud to announce that our outstanding clinicians have won a 2019 Jersey Choice Top Doctors award, presented by New Jersey Monthly magazine. Jersey Choice Top Doctors awards go to New Jersey physicians who are voted by their peers as being some of the most competent and compassionate practitioners in the state.
UOA award winners are:
Gino Chiappetta
Charles Gatt, Jr.
David Harwood
Stephen Kayiaros
Timothy Leddy
Matthew McDonnell
James Monica
Dr. Chiappetta is an orthopaedic spine surgeon whose philosophy of care is to create an individual plan for each patient that is unique to their needs. He uses the latest minimally invasive and robotic techniques to achieve the most successful outcome so his patients can return to the quality of life they deserve.
Dr. Gatt is an orthopaedic surgeon who specializes in sports medicine. He has a passion for helping athletes get back on the field so they can fulfill their dreams. He provides care to the athletes in some of the top schools in New Jersey: Rider, Rutgers and Princeton University. He is the recipient of the 2018 David G. Moyer Award for excellence, presented by the Eastern Athletic Trainers Association, as well as the author of nearly two dozen peer-reviewed journal articles.
Dr. Harwood is a joint replacement specialist. His philosophy is to provide care that is as minimally invasive as possible so the patient can recover quickly and with minimal pain. His awards over his career include numerous Jersey Choice Top Doctor awards, as well as Castle Connolly Top Doc and Best Doctors in America awards.
Dr. Kayiaros is a joint replacement specialist. He takes great satisfaction from effecting a near-immediate, positive change in his patients when he performs a joint replacement. Dr. Kayiaros has been on the forefront of researching and performing direct anterior hip replacements, a minimally invasive technique that gets patients active quickly.
Dr. Leddy is an orthopaedic surgeon specializing in hand surgery. He loves to build relationships with UOA patients, as well as utilize the most modern hand surgery techniques available. Dr. Leddy believes patient education is a critical part of surgery, and he always ensures his patients understand their condition and what to expect from surgery and recovery.
Dr. McDonnell is an orthopaedic spine surgeon. He believes every patient deserves an individualized treatment plan, and that plan starts with carefully listening to the patient's needs. He performs minimally invasive procedures for a quicker recovery for his patients. Dr. McDonnell and Dr. Chiappetta were the first team to implant an ultimatum 3D printed spacer cage into the spine, a spinal fusion technique.
Dr. Monica is a hand and upper extremity specialist. He places great importance on collaboration between surgeon and patient to develop the most suitable treatment plan. Dr. Monica prides himself on being available to patients whenever they need him.
Research for the Jersey Choice Top Doctors award is commissioned by New Jersey Monthly magazine and carried out by Ringwood, NJ research firm Leflein Associates. Leflein Associates asks every doctor licensed in New Jersey for five years which of their colleagues they would trust to treat their own families. Doctors with the most responses—including the seven from UOA—receive the award.
Please join the entire UOA family in congratulating our winners—as well as the rest of our outstanding clinical and administrative staff—on a job well done. If you have a musculoskeletal injury or condition, request an appointment with our award-winning staff today.